August/September blog – Wedding shows
As we are coming up to the start of the wedding show season I thought I'd just do a short blog this month (a little late) about them.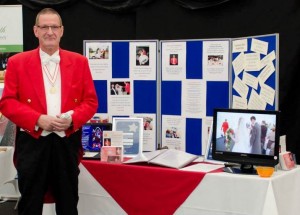 In this technological age where you can find everything you need on-line, attending a wedding show may seem a bit old hat, but they are the best place to meet a wide variety of wedding related companies and see what they have to offer. You can't beat talking face to face and getting to know suppliers.  When I meet with couples who have booked me, I ask why they chose a particular supplier, a photographer for example, and it is nearly always because they not only liked their style of photography but because they liked the photographer. A friendly working relationship with the professionals you choose is essential.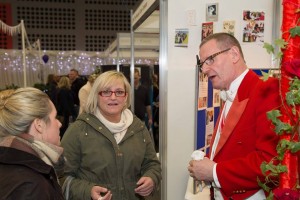 The major wedding fayres / shows are traditionally held twice a year – between January & April and then in the autumn months of September & October. Most suppliers are too busy with weddings during the summer months but there does seem to be a growing trend for summer fayres. Some of the smaller fayres give venues the opportunity to showcase their facilities and are attended by suppliers the venue recommends. I am involved with the Dunston Hall showcase days which are held every six/seven weeks. Only a handful of preferred suppliers attend, but it does give couples the chance to see the venue set up for a wedding, instead of the suites being full of exhibition stands.
If you are looking for something completely different there are also vintage wedding fayres which have suppliers you don't usually find at the traditional shows.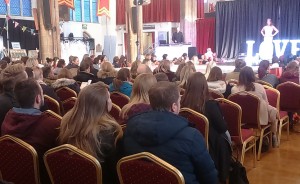 Some of the major shows have so many exhibitors that you may feel a bit overwhelmed but it will give you a chance to compare quality and prices. This will especially apply when it comes to some of the must haves – venue, dress, cake, photographer etc. as there will normally be more than one exhibitor in these categories. However, it's not always about price. As with many things in life, you get what you pay for, so ask around and try to make informed choices.  You will be handed many leaflets and see a lot of 'stuff' that you probably hadn't even thought of. Pick the brains of everyone you can and make sure you keep a note book. I'm probably telling you things you already know because, having spoken to hundreds of brides during the past 8 years, I know you will enjoy planning your wedding almost as much as the day itself. So have fun and enjoy.
There are many shows happening in the next few months but here are the ones that I will be attending.  Hopefully I will see you at one or more of them and offer you advice on planning your own memorable wedding day.
Sunday 21st August – Dunston Hall showcase 10am – 3pm
Sunday 4th September – Wedding Prom & Party @ Holiday Inn Norwich-North 10am – 4pm
Sunday 11th September – Wedding Spectacular @ St Andrew's Hall 11am – 4pm (includes fashion shows at 12.30 & 2.30)
Sunday 25th September – EDP show @ Dunston Hall 10.30am – 3.30pm
Sunday 9th October – EDP @ Ivy House Country Hotel 10.30am – 3.30pm
Sunday 9th October – I will also have a presence at the Mercure Hotel, Boundary Road Norwich but will not be there in person
Sunday 23rd October – Dunston Hall showcase 10am – 3pm