Unlike April 2013 when I had five weddings and a Civic Ball, this April has been exceptionally quiet on the bookings front. The Dunston Hall evening wedding showcase took place on the 2nd and I'm pleased to say resulted in another booking for a wedding at the venue next year. Good to meet up again with some of the other recommended suppliers at Dunston – Kelly from Eventiss cakes (excellent chocolate cake as usual),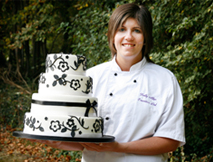 Matt Brasnett of 'I do' photgraphy and Brian Russell of Norwich Artistes, The following Sunday (7th) some of us set up our stands at the beautifully refurbished Ivy House Hotel at Oulton Broad. This show was once again organised by the excellent EDP team and was very well attended. The Ivy House really is a lovely venue and I will be adding it to my recommended venues blog.
Kelly of Eventiss Cakes
I spent an evening with Laura & Daniel and Louise & Leon going over details of their weddings which are coming up in May at the Brook Hotel and Elms Barn respectively.
It was another lovely day for EDP wedding show at Dunston Hall. Once again it was very busy most of the day and I'm pleased to say that as well as lots of interested couples, Charlotte and Stuart booked me for their wedding at Brasteds next year.
A call came out out of the blue from Mustard TV and as a result I was interviewed in full Town Crier livery for their tea-time show on Friday 25th. Unfortunately the link is no longer available but apparently I was very good! I even made up a rhyme for them which was broadcast as part of the interview.
Oyez!   Oyez!   Oyez!
Good citizens take heed to what I say
Turn on and tune in to Freeview TV
Find channel 8, that's where you should be
Mustard TV is what you will find
With news and entertainment of the local kind
Based here in Norwich, our City so fine
Steeped in history, with great shopping and places to dine
So tune in to channel 8 and see what we've got
Mustard TV, it is pretty hot!
And now my Sovereign I esteem
Hail Majesty! God Save The Queen
Don't forget that if you would like your company advertised to the fine citizens of Norwich, give me call or drop me an email. My rates are very reasonable. See you next month.