About Toastmaster Bob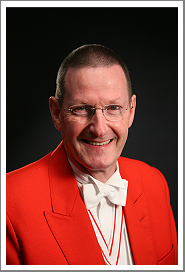 Having completed my formal education I followed in my father's footsteps and trained as a baker and confectioner. In 1986 I left the bakery trade and joined Royal Mail. During the next 23 years I became experienced in a variety of roles with the company including management. I took early retirement from the company in 2009.
In the early 1970's I helped to organise and host many different events in my spare time. These included weddings, anniversary & birthday celebrations, musicals, amateur theatre and social events. As a singer / guitarist I also took part in a number of church events. I produced and directed three Christian musicals in Dorset, Hampshire and Norfolk.
I decided to put my experience as a compere and organiser on a firm professional footing and attended a training course with the UK School of Professional Toastmasters. In April 2008, having completed my training in all aspects of a toastmaster's role, I successfully graduated from the school. I am now a member of the Association of the UK School of Professional Toastmasters and serve on the Executive Committee. I have officiated at many events including weddings, charity balls, fashion shows and award dinners.
In 2010 I was appointed by Norwich City Council as the Deputy Town Crier to the fine City of Norwich. However, now that David Bullock has retired after 32 years, I have taken over full responsibility as the official town (City) crier since January 2017. As well as attending civic events I have made proclamations on behalf of many high street companies and charities. These include House of Fraser, Lloyd's Banks, Specsavers, Tesco's, Norfolk Hospice, Britain in Bloom, Hotter Shoes & Whittard's. Click on the page heading at the top for more information.