Sorry I didn't do a blog for 2017. I just never got round to it as I was busy with my part-time work delivering flowers for a local florist (which I have now left) and attending nearly thirty weddings and events. They were all memorable in their own way but perhaps the highlight was my first Asian wedding at the Hilton Syon Hotel in Middlesex with Rekha & Aman. Working from 8am for the family breakfast celebrations through to the marriage ceremony and the evening celebrations with over 500 guests to control was certainly an experience I'll never forget. Respect to toastmasters who do this regularly.
2018 has been another hectic year with fifteen weddings completed and a further fifteen other events both as toastmaster and town crier.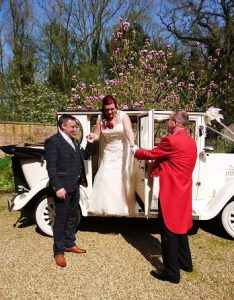 These included appearing on the local BBC East television (to do with local elections), a handful of charity events, advertising for House of Fraser (they obviously needed it!) and a local insurance company.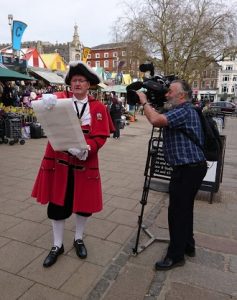 I welcomed dignitaries for the Norwich In Bloom and also hosted a trip on the open top bus to celebrate Norfolk Day. There were the usual appearances for Mayor making, Freemen of the City ceremony and the Lord Mayor's street procession.
Once again I put on my third red outfit from mid November until Dec 25th.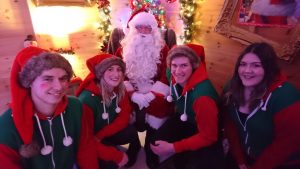 My now regular appearances in the grotto at Notcutts were a great success. I was so pleased to see many couples whose weddings I had been toastmaster for bring their children. Some are now regular visitors to the grotto and others had very new babies. It brought a tear to ole Santa's eye to see that so many happy couples have turned into happy families. Also for the first time this year we held a special 'Santa Paws' when a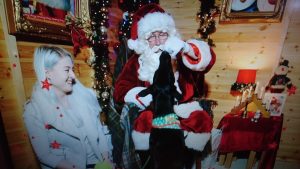 number of owners brought their dogs in to meet Santa and get some treats. Santa Bob also visited a school and, on Christmas Day, guests at a couple of hotels had a surprise visit.
This year (2019) has started quietly except for the fact that I have received the Bridebook.co.uk Toastmaster of the year 2019 Award.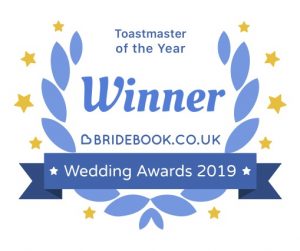 That is due to all the couples and fellow wedding industry suppliers who wrote glowing reviews of my services. Many thanks to you all and here's hoping for another successful year for everyone.