August – December 2014
I was so busy for the last 5 months of 2014 that I hardly had time to do a regular blog. I've had bookings as town crier and toastmaster as well as my regular work delivering flowers for Margaret Emms florist and some shifts at the Holiday Inn Norwich-North.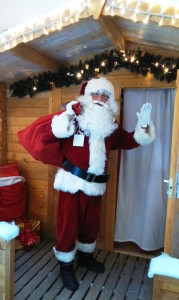 Add to that pre wedding planning meetings, wedding shows and of course spending time looking after my beautiful granddaughter, you can see that it's been a fairly busy month. The final six weeks of the year I also had my 'seasonal' job to do – I hope you all got what you wanted for Christmas this year Ho! Ho! Ho!
Town crier duties included the WW1 commemoration at the Forum when I had to read out proclamations made by the King and an appeal for horses to be given to the war effort. Later in the month I also strolled about the city proclaiming the opening day of the new Alba Rose jewellery shop in the Chapelfield shopping centre.
The weekend of the 16th/17th August was a double whammy of weddings. Greg and Mel had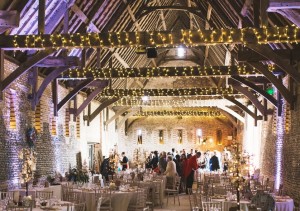 hired Waxham Great Barn for their celebrations. It is one big empty space so they had totally decorated it for the day. It looked great (see pic) and to add to the occasion they arrived in a splendid Cadillac. The pictures are courtesy of photographer James Powell who did a splendid job.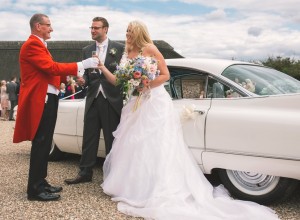 Anita and her team from Classic choice catering worked under difficult conditions to provide the 'up market' burger and chips meal and we were well entertained by magician Martin Hinchcliffe. In the evening the Joe Ringer band really got the party started and a great time was had by all.
As Sunday dawned I made my way back along the A1064, this time turning right to go down to the Boathouse on Little Ormesby Broad. Come 3pm, Lee was waiting in the arbour on the decking as Pinar arrived, having travelled by boat along the broad. Following the ceremony Matt of 'I do photography' took them both out in the boat for a half hour trip around the broad while he took some photo's.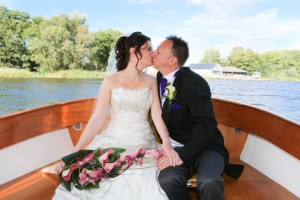 Then some of the guests were able to go for a short trip before everyone lined up on the decking for a group shot. Following my call to dinner, we enjoyed an excellent meal provided by Belinda and her excellent chefs at the Boathouse.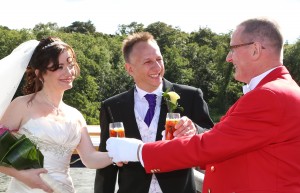 Then it was first dance time with great band Party X providing the entertainment. Pinar and Lee had rehearsed a special first dance, but Pinar had to somehow pin her dress up as it was difficult to dance in!  I have come across this a couple of times so it may be something Brides might like to think about when choosing their 'dream dress' – A) can you sit down for your meal easily and B) can you dance in it without too much difficulty. Is that a man being too practical!?
At the end of the month I returned to the Boathouse for Lauren & Gregg's celebrations following their church wedding. Our photographer on this occasion was Luis Holden and entertainment provided by the fabulous Connections. Being a hot August day it was a nice touch to not only have drinks available on arrival from the church but also ice cream provided by Ronaldo's ice cream cart.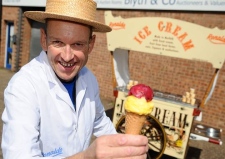 September was a quiet month for bookings but I had a couple of popular wedding shows to attend. The first was organised by the Wedding Prom & Party at Sprowston Manor  and the second by the EDP at Dunston Hall. Bookings came in at both these shows including my first for 2017!
October saw me attending two weddings. The first was in the lovely Tithe Barn at Brome Grange where I am the recommended toastmaster.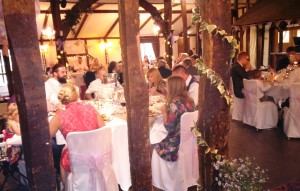 Sadly Kristie & Robert's wedding was marred by poor weather. Taking photographs was difficult in the rain but photographer Matt Wilkinson made the best of the circumstances and did an excellent job. (This pic from my phone). Entertainment came from the Steel Revolution disco who certainly got the party started.
There was more ice cream and also crepes at Emily & Matt's celebrations in Hickling Barn also in October. Another new thing I had not come across before was the provision of a polaroid camera for guests to take selfie's and post them on a large board. There were official photo's as well of course taken by the lovely Katie Hart.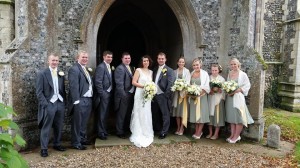 November began with Charlotte & David's wedding at the beautiful Chaucer Barn. It is one of the most popular venues in Norfolk and I have recently become their recommended toastmaster. It was a long day full of lots of entertainment and fun. Catering was provided by Tresal, wedding cake by Iced Jens, Candy Cart by Vanessa, entertainment including first dance was singer Lee Vann and a great Fun Casino by Mark and team. Photos were taken by top photographer Jamie Groom and Charlotte & David, together with all their family and friends, had a day to remember.
I managed to squeeze in some planning meetings with some couples before starting on my 'seasonal' job as Santa in Castle Mall.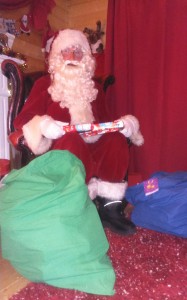 This is the third year I have been in the grotto and I really love it. There are of course quite a few 'screamers' who, although they want to see Santa, are suddenly scared to death abut meeting this big bearded character in his tiny grotto. With the help of the elves we do manage to calm some of them down, but the great joy is those who run in to give Santa a big hug and can't wait to tell him what they want for Christmas. Boys still seem to want 'cars' or fireman Sam, while this year 95% of the girls wanted 'Frozen' stuff….and of course I sang a little bit 'Let it go, let it go….the cold never bothered me anyway'. I think the elves got a bit bored with it after a while but the kids and parents loved it.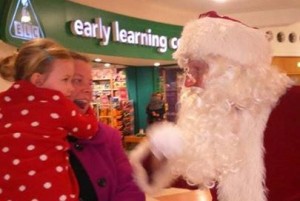 My granddaughter Grace came to visit again and still has no idea that it is granddad behind all that hair! By the way, I'm amazed just how many boys are named Alfie!
Rounding off the month I was back at Dunston Hall for Rachel & Jonathan's wedding celebrations. It was good to work with photographer Andy Austin again,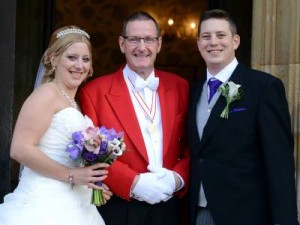 and the wonderful Vivace String Quartet. I'm pleased that a number of  couples, Rachel & Jonathan included, are friending me on face-book, so I am able to keep in touch with them before and after their big day.
Two weddings to squeeze in between flower deliveries and Santa shifts in December. On 6th December I travelled to another top venue in Norfolk, namely, Voewood at High Kelling just outside Holt. I'd spent a lot of time with Laura, Ish and the family in helping to plan this day – or rather weekend. A beautiful setting for a beautiful wedding. It was great to work again with top photographer Katherine Ashdown,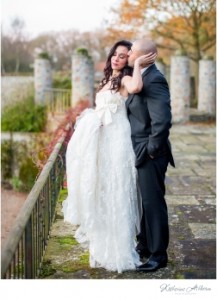 the Accafellas singing group and taste a piece of an amazing cake by Kelly of Eventiss cakes.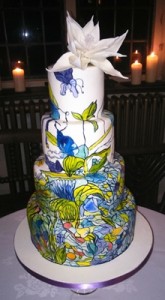 We were also entertained during the ceremony and drinks reception by the lovely Mary of UK Harpists. Of course the highlight of the evening was a visit from Santa! Laura & Ish had bought a book for each of their guests as a wedding favour and it was Santa's job to arrive (strangely after toastmaster Bob had disappeared) to give them out. This meant a late finish so I was pleased to take up the hosts offer to be accommodated for the night in the 'chocolate room' at Voewood.
The final wedding of the year took place on the 20th at Elms Barn.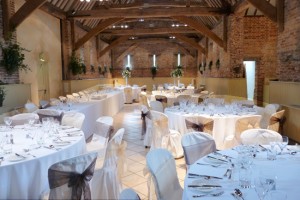 This venue is also very popular and you can see why. There is always excellent service by Alison and her team in a lovey venue. The gardens are beautiful (especially in summer) although Kelly & Lee did get a bit cold while Helen White took some outdoor photos while Xenia Horne entertained on her harp (inside). Another cake from Jenna of Iced Jens and A&M events provided a popular Baileys fountain for the evening guests to enjoy.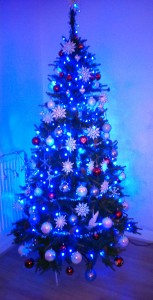 My final Santa shift was the following day and then, with three more flower delivery shifts done, it was at last Christmas Day, and I was grateful to be able to enjoy a four day break with family and friends.
Finally in 2014 I was as usual in Toastmaster and Town Crier outfit at the Zest New Year's Eve Party, acting as both host and ringing in the New Year at midnight. Excellent entertainment was provided once again by Munch, who traveled all the way from Liverpool, and I enjoyed an extremely delicious four course meal into the bargain.
So a fairly busy year comes to an end, and already the work on all fronts seems to be non-stop for 2015. Bookings for 2016 and even one for 2017 are already in the diary. Glad I retired back in 2009 or I wouldn't have been able to do (and really enjoy) so much work!!!!